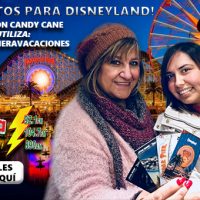 REGLAS OFICIALES
A PARTIR DEL MARTES 17 DE DICIEMBRE 2019 Y CONTINUANDO HASTA EL JUEVES 30 DE
ENERO 2020, RADIO ESCUCHAS DE LA RANCHERA 92.1 FM, 104.7 FM Y 890 AM MAYORES
DE 18 AÑOS TENDRAN LA OPORTUNIDAD DE GANAR EL UN PAQUETE FAMILIAR DE
CUATRO BOLETOS PARA EL DISNEYLAND RESORT DE 2 DIAS, UN PARQUE POR DIA.
REGISTRATE Y CALIFICA: RADIO ESCUCHAS DE LA RANCHERA 92.1 FM, 104.7 FM Y 890
AM, VISITEN FACEBOOK O INSTAGRAM Y SIGAN UNA DE ESTAS PLATAFORMAS.
SEGUIDORES DEBEN SUBIR UNA SELFIE CON UN DULCE CANDY CANE PEQUEÑO Y
UTLIZAR "#LARANCHERAVACACIONES" EN LA DESCRIPCION. RADIO ESCUCHAS DE LA
RANCHERA 92.1 FM, 104.7 FM Y 890 AM TAMBIEN PODRAN REGISTRARSE EN PERSONA
CON EL EQUIPO DE PROMOCIONES EN LOS REMOTOS DENTRO DE LAS FECHAS DADAS.
CONCURSO: UN GANADOR DE ENTRE TODAS LAS INSCRIPCIONES REGISTRADAS SE
SORTEARÁ EL VIERNES 31 DE ENERO 2020. EL VALOR ESTIMADO DEL PREMIO ES
$840.00. PROPORCIONADOS POR LOTUS SACRAMENTO CORP. CON FINES
PROMOCIONALES. EL GANADOR SERÁ NOTIFICADO POR TELÉFONO Y/O CORREO
ELECTRÓNICO.
REGLAS ADICIONALES: SOLO PUEDE CALIFICAR UNA VEZ (FACEBOOK, INSTAGRAM, O
EN PERSONA CON EL EQUIPO DE PROMOCIONES). NO ES NECESARIO NINGUNA
COMPRA U OBLIGACIÓN. EL PREMIO NO ES TRANSFERIBLE. EL GANADOR DEL PREMIO
DEBE PROPORCIONAR UN IDENTIFICACION VÁLIDA DE LOS ESTADOS UNIDOS. EL
GANADOR TIENE TREINTA (30) DIAS PARA RECOGER SU PREMIO A PARTIR DE DIA QUE
SE LE NOTIFIQUE. LOTUS SACRAMENTO CORP. NO ES RESPONSABLE DE LA
CANCELACIÓN DEL CONCURSO COMO RESULTADO DE EVENTOS NO DENTRO DEL
CONTROL DE LOTUS SACRAMENTO. EL GANADOR ES RESPONSABLE DE TODAS LAS
OTRAS CUOTAS QUE PUEDAN SURGIR DE LA ACEPTACIÓN DEL PREMIO, INCLUIDOS
TODOS LOS IMPUESTOS APLICABLES, INCLUIDOS LOS IMPUESTOS FEDERALES. LOS
PARTICIPANTES ACUERDAN INDEMNIZAR Y SOSTENER INADECUADO LOTUS
SACRAMENTO CORP. TODOS LOS PATROCINADORES PARTICIPANTES, SUS
RESPECTIVOS AFILIADOS, DIRECTORES, OFICIALES, AGENTES, PERSONAL,
ADMINISTRADORES, ASIGNA DE CUALQUIER Y TODA RESPONSABILIDAD, PÉRDIDA,
COSTO, DAÑO, LESIÓN O MUERTE, INCLUIDOS LOS ABOGADOS HONORARIOS
DERIVADOS, RELACIONADOS O EN CONEXIÓN CON PARTICIPACIÓN EN LA PROMOCIÓN /
CONCURSO Y / O ACEPTACIÓN DEL PREMIO. LOS EMPLEADOS, AQUELLOS
DOMICILADOS CON, Y LAS FAMILIAS INMEDIATAS DE EMPLEADOS DE LOTUS
SACRAMENTO CORP. Y LOS PATROCINADORES PARTICIPANTES SON INELIGIBLES.
LOTUS SACRAMENTO Y LOS PATROCINADORES PARTICIPANTES SE RESERVAN EL
DERECHO DE USAR NOMBRAMIENTOS, VOZ E IMAGEN DE LOS GANADORES CON FINES
PROMOCIONALES. UNA COPIA COMPLETA DE ESTAS REGLAS ESTÁ DISPONIBLE EN
LOTUS SACRAMENTO, 1442 ETHAN WAY, SUITE 101, SACRAMENTO, CALIFORNIA
DURANTE HORAS DE OFICINA.
OFFICIAL CONTEST RULES
BEGINNING TUESDAY, DECEMBER 17, 2019 AND CONTINUING THROUGH THURSDAY,
JANUARY 30, 2020, LA RANCHERA 92.1 FM, 104.7 FM, AND 890 AM LISTENERS, 18 OR
OLDER WILL HAVE THE OPPORTUNITY TO WIN A FAMILY FOUR PACK TO THE
DISNEYLAND RESORT A 2-DAY, 1-PARK PER DAY TICKETS.
REGISTER & QUALITY: LA RANCHERA 92.1 FM, 104.7 FM, AND 890 AM LISTENERS
VISIT FACEBOOK OR INSTAGRAM AND FOLLOW ONE OF THESE PLATFORMS.
FOLLOWER MUST UPLOAD A SELFIE WITH A SMALL CANDY CANE AND USE
"#LARANCHERAVACACIONES" IN THE DESCRIPTION. LA RANCHERA 92.1 FM, 104.7
FM, AND 890 AM LISTENERS MAY ALSO SIGN UP IN PERSON AT THE STATION WITH
THE PROMOTIONS TEAM AT ANY REMOTE WITHIN THE GIVEN DATES ABOVE.
PRIZE DRAWING: ONE PRIZE WINNER FROM AMONG ALL REGISTERED ENTRIES
WILL BE DRAWN AT RANDOM ON FRIDAY, JANUARY 31, 2020 THE ESTIMATED
VALUE OF THE PRIZE IS $840.00 PROVIDED BY LOTUS SACRAMENTO CORP. FOR
PROMOTIONAL PURPOSES. WINNER WILL BE NOTIFIED BY PHONE AND/OR EMAIL.
ADDITIONAL RULES: YOU MAY ONLY QUALIFY ONCE VIA FACEBOOK, INSTAGRAM
OR SIGNING UP IN PERSON AT REMOTES WITH THE PROMOTIONS TEAM. NO
PURCHASE OR OBLIGATION NECESSARY. PRIZE IS NON-TRANSFERRABLE. PRIZE
WINNER MUST PROVIDE A VALID U.S. GOVERNMENT ISSUED PHOTO ID AND
TAXPAYER IDENTIFICATION NUMBER. WINNER MUST CLAIM PRIZE WITHIN THIRTY
(30) DAYS OF NOTIFICATION. LOTUS SACRAMENTO CORP. IS NOT RESPONSIBLE
FOR CANCELLATION OF THE CONTEST AS A RESULT OF EVENTS NOT WITHIN THE
CONTROL OF LOTUS SACRAMENTO. WINNER IS RESPONSIBLE FOR ALL OTHER
FEES WHICH MAY ARISE FROM ACCEPTANCE OF THE PRIZE INCLUDING ALL
APPLICABLE TAXES INCLUDING FEDERAL INCOME TAXES. ENTRANTS AGREE TO
INDEMNIFY AND HOLD HARMLESS LOTUS SACRAMENTO CORP. ALL PARTICIPATING
SPONSORS, THEIR RESPECTIVE AFFILIATES, DIRECTORS, OFFICERS, AGENTS,
STAFF, ADMINISTRATORS, ASSIGNS FROM ANY AND ALL LIABILITY, LOSS, COST,
DAMAGE, INJURY, OR DEATH, INCLUDING ATTORNEYS' FEES ARISING OUT OF,
RELATING TO OR IN CONNECTION WITH PARTICIPATING IN THE PROMOTION/
CONTEST AND/OR ACCEPTING THE PRIZE. EMPLOYEES, THOSE DOMICILED WITH,
AND THE IMMEDIATE FAMILIES OF EMPLOYEES OF LOTUS SACRAMENTO CORP.
AND PARTICIPATING SPONSORS ARE INELIGIBLE. LOTUS SACRAMENTO AND
PARTICIPATING SPONSORS RESERVE THE RIGHT TO USE WINNERS NAMES, VOICE
AND IMAGE FOR PROMOTIONAL PURPOSES. A COMPLETE COPY OF THESE RULES
ARE AVAILABLE AT LOTUS SACRAMENTO, 1442 ETHAN WAY, SUITE 101,
SACRAMENTO, CALIFORNIA DURING NORMAL BUSINESS HOURS.