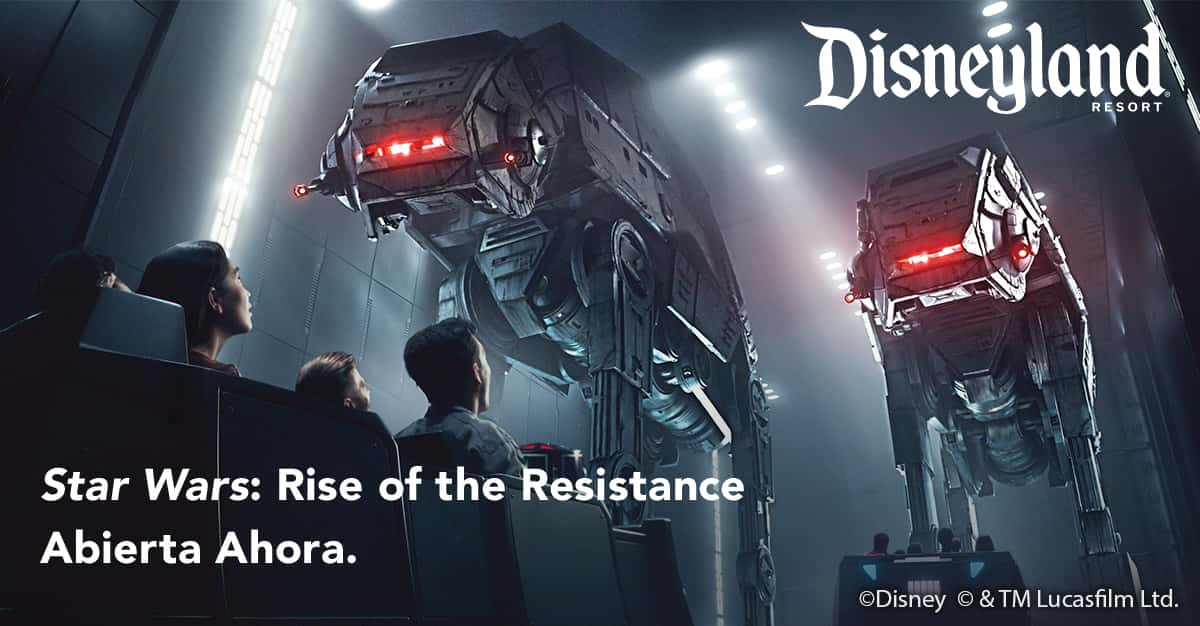 ¡La Ranchera SuperStation te quiere llevar al Disneyland Resort!
Lucha contra la Primera Orden en Star Wars: Rise of the Resistance, abierta ahora en Star Wars: Galaxy's Edge.
Canta con el nuevo desfile Magic Happens, desde Febrero 28, o disfruta por todo el Disney California Adventure Food & Winw Festival, Febrero 28 hasta Abril 21.
A partir del Viernes 14 de Febrero al Viernes 21 de Febrero; participa, y podrías ganar 4 boletos para el Disneyland Resort de 2 Días, 1 Parque por día de La Ranchera SuperStation.
Comunícate al (916) 779-0413 cuando escuches a Mickey Mouse al aire y seas la llamada #9, y des la frase clave que escucharas durante el dia con tu locutor favorito.
Atracciones y entretenimiento sujetos a restricciones y cambios sin aviso. Debes tener 21 años o más y un ID con foto váalida para comprar y consumir bebidas alcoholicas.
REGLAS OFICIALES DEL CONCURSO
A PARTIR DEL VIERNES 14 DE FEBRERO 2020 Y CONTINUANDO HASTA EL VIERNES 21 DE
FEBRERO 2020, RADIO ESCUCHAS DE LA RANCHERA 92.1 FM, 104.7 FM Y 890 AM
MAYORES DE 18 AÑOS TENDRÁN LA OPORTUNIDAD DE GANAR EL UN PAQUETE
FAMILIAR DE CUATRO (4) DE BOLETOS PARA EL DISNEYLAND RESORT DE 2-DIAS, 1-
PARQUE POR DIA.
REGISTRATE Y CALIFICA: RADIO ESCUCHAS DE LA RANCHERA 92.1 FM, 104.7 FM Y 890
AM SINTONIZAR DE LUNES A VIERNES DE 5:00AM A 10:00AM Y DE 3:00PM A 7:00PM PARA
OBTENER FRASE CLAVE. EN CUANTO EL RADIO ESCUCHA ESCUCHE LA RISA DE MICKEY
MOUSE, DEBE SER LLAMADA NUMERO NUEVE (9) Y CONTESTAR CON LA FRASE CLAVE
CORRECTA PARA SER LA LLAMADA GANADORA. EL VALOR ESTIMADO DEL PREMIO ES
$900.00 PROPORCIONADOS POR DISNEYLAND CON FINES PROMOCIONALES. EL
GANADOR SERÁ NOTIFICADO AL INSTANTE.
REGLAS ADICIONALES: SOLO PUEDE CALIFICAR UNA VEZ. NO ES NECESARIO NINGUNA
COMPRA U OBLIGACIÓN. EL PREMIO NO ES TRANSFERIBLE. EL GANADOR DEL PREMIO
DEBE PROPORCIONAR UN IDENTIFICACION VÁLIDA DE LOS ESTADOS UNIDOS.
GANADOR DEBER LLENAR UNA FORMA W-9. EL GANADOR TIENE 90 (NOVENTA) DIAS
PARA RECLAMAR SU PREMIO A PARTIR DE DIA QUE SE LE NOTIFIQUE. GANADOR Y
MIEMBROS DEL MISMO HOGAR TIENEN TREINTA (30) DIAS PARA VOLVER A PARTICIPAR
EN OTROS CONCURSOS. LOTUS SACRAMENTO CORP. NO ES RESPONSABLE DE LA
CANCELACIÓN DEL CONCURSO COMO RESULTADO DE EVENTOS NO DENTRO DEL
CONTROL DE LOTUS SACRAMENTO. EL GANADOR ES RESPONSABLE DE TODAS LAS
OTRAS CUOTAS QUE PUEDAN SURGIR DE LA ACEPTACIÓN DEL PREMIO, INCLUIDOS
TODOS LOS IMPUESTOS APLICABLES, INCLUIDOS LOS IMPUESTOS FEDERALES. LOS
PARTICIPANTES ACUERDAN INDEMNIZAR Y SOSTENER INADECUADO LOTUS
SACRAMENTO CORP. TODOS LOS PATROCINADORES PARTICIPANTES, SUS
RESPECTIVOS AFILIADOS, DIRECTORES, OFICIALES, AGENTES, PERSONAL,
ADMINISTRADORES, ASIGNA DE CUALQUIER Y TODA RESPONSABILIDAD, PÉRDIDA,
COSTO, DAÑO, LESIÓN O MUERTE, INCLUIDOS LOS ABOGADOS HONORARIOS
DERIVADOS, RELACIONADOS O EN CONEXIÓN CON PARTICIPACIÓN EN LA PROMOCIÓN /
CONCURSO Y / O ACEPTACIÓN DEL PREMIO. LOS EMPLEADOS, AQUELLOS
DOMICILADOS CON, Y LAS FAMILIAS INMEDIATAS DE EMPLEADOS DE LOTUS
SACRAMENTO CORP. Y LOS PATROCINADORES PARTICIPANTES SON INELIGIBLES.
LOTUS SACRAMENTO Y LOS PATROCINADORES PARTICIPANTES SE RESERVAN EL
DERECHO DE USAR NOMBRAMIENTOS, VOZ E IMAGEN DE LOS GANADORES CON FINES
PROMOCIONALES.
UNA COPIA COMPLETA DE ESTAS REGLAS ESTÁ DISPONIBLE EN
LOTUS SACRAMENTO, 1442 ETHAN WAY, SUITE 101, SACRAMENTO, CALIFORNIA
DURANTE HORAS DE OFICINA.
OFFICIAL CONTEST RULES
BEGINNING FRIDAY, FEBRUARY 14, 2020 AND CONTINUING THROUGH FRIDAY,
FEBRUARY 21, 2020, LA RANCHERA 92.1 FM, 104.7 FM, AND 890 AM LISTENERS, 18
OR OLDER WILL HAVE THE OPPORTUNITY TO WIN ONE FAMILY 4-PACK TO THE
DISNEYLAND RESORT 2-DAY, 1-PARK PER DAY TICKETS.
REGISTER & QUALIFY: LA RANCHERA 92.1 FM, 104.7 FM, AND 890 AM LISTENERS
TUNE MONDAY THROUGH FRIDAY FROM 5:00AM TO 10:00AM AND/ OR FROM
3:00PM TO 7:00PM. LISTEN WEEKDAYS FOR THE PHRASE OF THE DAY. WHEN
LISTENERS HEAR THE MICKEY MOUSE LAUGH, CONTESTANT MUST CALL IN, BE
CALLER NUMBER NINE (9), AND ANSWER WITH PHRASE OF THE DAY TO BE
WINNING CALLER. WINNER WILL BE NOTIFIED INSTANTLY. THE ESTIMATED VALUE
OF THE PRIZE IS $900.00. PROVIDED BY DISNEYLAND FOR PROMOTIONAL
PURPOSES.
ADDITIONAL RULES: NO PURCHASE OR OBLIGATION NECESSARY. PRIZE IS NON-
TRANSFERRABLE. PRIZE WINNER MUST PROVIDE A VALID U.S. GOVERNMENT
ISSUED PHOTO ID AND/OR SOCIAL SECURITY NUMBER.WINNER MUST FILL OUT A
W-9. WINNER HAS NINETY (90) DAYS TO CLAIM PRIZE FROM DAY OF WINNING.
WINNER AND MEMBERS OF THE SAME HOUSEHOLD MUST WAIT A PERIOD OF
THIRTY (30) DAYS TO PARTICIPATE IN ANY OTHER CONTEST. LOTUS SACRAMENTO
CORP. IS NOT RESPONSIBLE FOR CANCELLATION OF THE CONTEST AS A RESULT
OF EVENTS NOT WITHIN THE CONTROL OF LOTUS SACRAMENTO. WINNER IS
RESPONSIBLE FOR ALL OTHER FEES WHICH MAY ARISE FROM ACCEPTANCE OF
THE PRIZE INCLUDING ALL APPLICABLE TAXES INCLUDING FEDERAL INCOME
TAXES. ENTRANTS AGREE TO INDEMNIFY AND HOLD HARMLESS LOTUS
SACRAMENTO CORP. ALL PARTICIPATING SPONSORS, THEIR RESPECTIVE
AFFILIATES, DIRECTORS, OFFICERS, AGENTS, STAFF, ADMINISTRATORS, ASSIGNS
FROM ANY AND ALL LIABILITY, LOSS, COST, DAMAGE, INJURY, OR DEATH,
INCLUDING ATTORNEYS' FEES ARISING OUT OF, RELATING TO OR IN CONNECTION
WITH PARTICIPATING IN THE PROMOTION/ CONTEST AND/OR ACCEPTING THE
PRIZE. EMPLOYEES, THOSE DOMICILED WITH, AND THE IMMEDIATE FAMILIES OF
EMPLOYEES OF LOTUS SACRAMENTO CORP. AND PARTICIPATING SPONSORS ARE
INELIGIBLE. LOTUS SACRAMENTO AND PARTICIPATING SPONSORS RESERVE THE
RIGHT TO USE WINNERS NAMES, VOICE AND IMAGE FOR PROMOTIONAL
PURPOSES. A COMPLETE COPY OF THESE RULES ARE AVAILABLE AT LOTUS
SACRAMENTO, 1442 ETHAN WAY, SUITE 101, SACRAMENTO, CALIFORNIA DURING
NORMAL BUSINESS HOURS.